Cariboo Bonanza Resort
invites you to experience a relaxing holiday at our picturesque resort.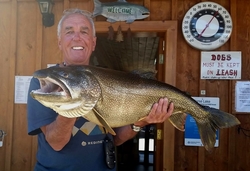 Three different species of fish can be caught in Horse Lake, making your fishing experience one to remember! All of these species can be caught while flyfishing or trolling:
Lake Trout up to 25lbs,
Rainbow up to 3lbs,
Kokanee as big as 4lbs!
Your dreams of hooking into a monster fish like that can come true!
Bring the kids for a vacation!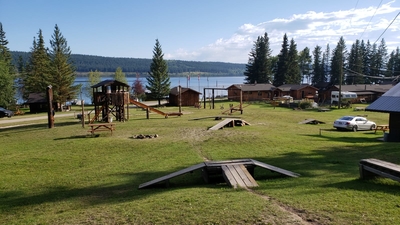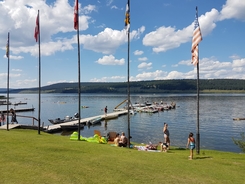 They will love our amazing, big playground that has a zipline, fort with slide, sandbox, swings, teeter-totter, and bike obstacle course!

We also have a badminton/volleyball net (equipment in store for use), horseshoe pit, basketball net, and waterslide into the crystal clear water of Horse Lake!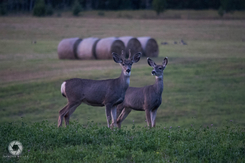 If you are a hunter, then this is the place for you! We are situated in one of Canada's finest hunting regions. Surrounded by nature and endless roads, you can hunt deer, moose, black bear and grouse. We have a 3D archery course at the resort (Bring your own bow).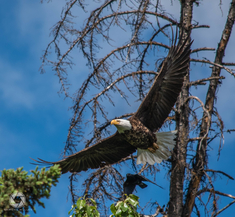 Shoot photos with your camera of the numerous species that are in our backyard. Watch an eagle catch a rainbow trout right in front of our campground and listen to the loons' mysterious call. With the variety of birds and mammals that you can see in our area, it's a nature-lovers paradise!
Explore 100 Mile House and area with our lookouts, waterfalls, local farmers markets, provincial parks and much more. There is something here for everyone.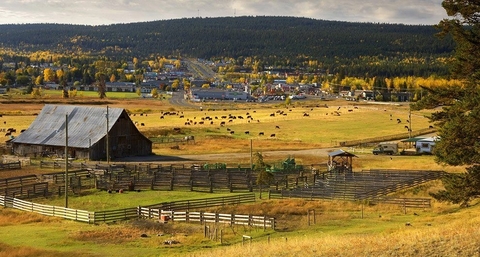 100 Mile House,BC
There is nothing like the look on a child's face with his catch of the day.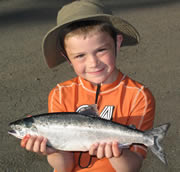 What a story he has to tell.